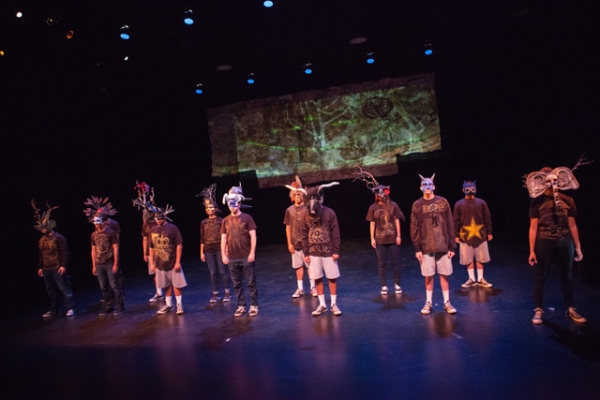 Tuesday through Friday 2:30PM – 5:50PM
Course Number
THTR 43/143
Instructor Name
Michael Morgan
Scholarship/s Available
No
The People's Voice is an umbrella term for cutting-edge collaborations between the university and the community. The course was specifically named for the people to include a variety of arts initiatives for diversely marginalized populations where social justice is a concern. This course is for students who are passionate about their development as informed, engaged, and action-oriented citizen-artists. It is open to non-theater majors, as well as those students who are specializing in theater studies. Because of its permeability with social issues, The People's Voice can supplement educational and fieldwork objectives for teachers, therapists, social workers, and community organizers, as well as cultural workers in all arts disciplines. We look for novel combinations with media, citizen journalism, live theater and performance, and multimodal art strategies to destabilize the status-quo as well as celebrate society's disenfranchised voices throughout Santa Barbara and other parts of California.
This course constantly evolves by seeking new demographics with which to form partnerships. Most recently, UC undergraduates formed an artistic alliance with incarcerated male youth to re-write and perform Homer's Odyssey. Santa Barbara County's Los Prietos Boys Camp and Ventura Youth Correctional Facility, minimum and maximum detention centers, respectively, collaborated with us to develop The Odyssey Project. In this project, the incarcerated youth were able to view their lives through a heroic, rather than criminalized, lens to consider alternatives for constructing a productive future. Learn more about The Odyssey Project through this interactive video.
In 2022, we are excited to continue to focus on the issues of incarcerated female youth through a media-driven rethinking and rewriting of Euripides' Trojan Women in partnership with the Ventura Youth Correctional Facility. The Trojan Women Project will be delivered virtually, using cyber connectivity through the Zoom platform. We invite formerly incarcerated scholar artists to shed light on their experiences and provide a stimulus for owning one's voice. Working with a team of storytelling facilitators, we will use breakout rooms and conference capabilities to support the participants' creative work. Using writing prompts inspired by the characters' trajectories in the play, the participants will bring their perspectives to bear on the issues confronting these heroines devastated by war. Participants' writings will further coalesce through a digital storytelling process that concludes with individually created videos. A digital story is "a short, first-person video-narrative created by combining recorded voice, still and moving images, and music or other sounds." The team will organize the videos into a sequence forming a collective montage that follows the narrative of Euripides' play. View project examples: Women of the Century and Jazz Rifts on Cassandra.
All People's Voice courses seek to foster relationships founded on respect, honoring, and tolerance. Through these courses, as cultural workers, we aim to build community while upholding the individual.