FSSP students make immediate progress toward their educational goals by enrolling in UC Santa Barbara courses and completing 7-12 units, all before the academic year officially begins! Many courses have smaller class sizes during the summer months, so students benefit from individualized attention from faculty members while acclimating to UC Santa Barbara's academic environment. FSSP students also gain access to unique opportunities, such as seminars designed specifically for first-year students, undergraduate research courses, honors sections, and enrichment classes.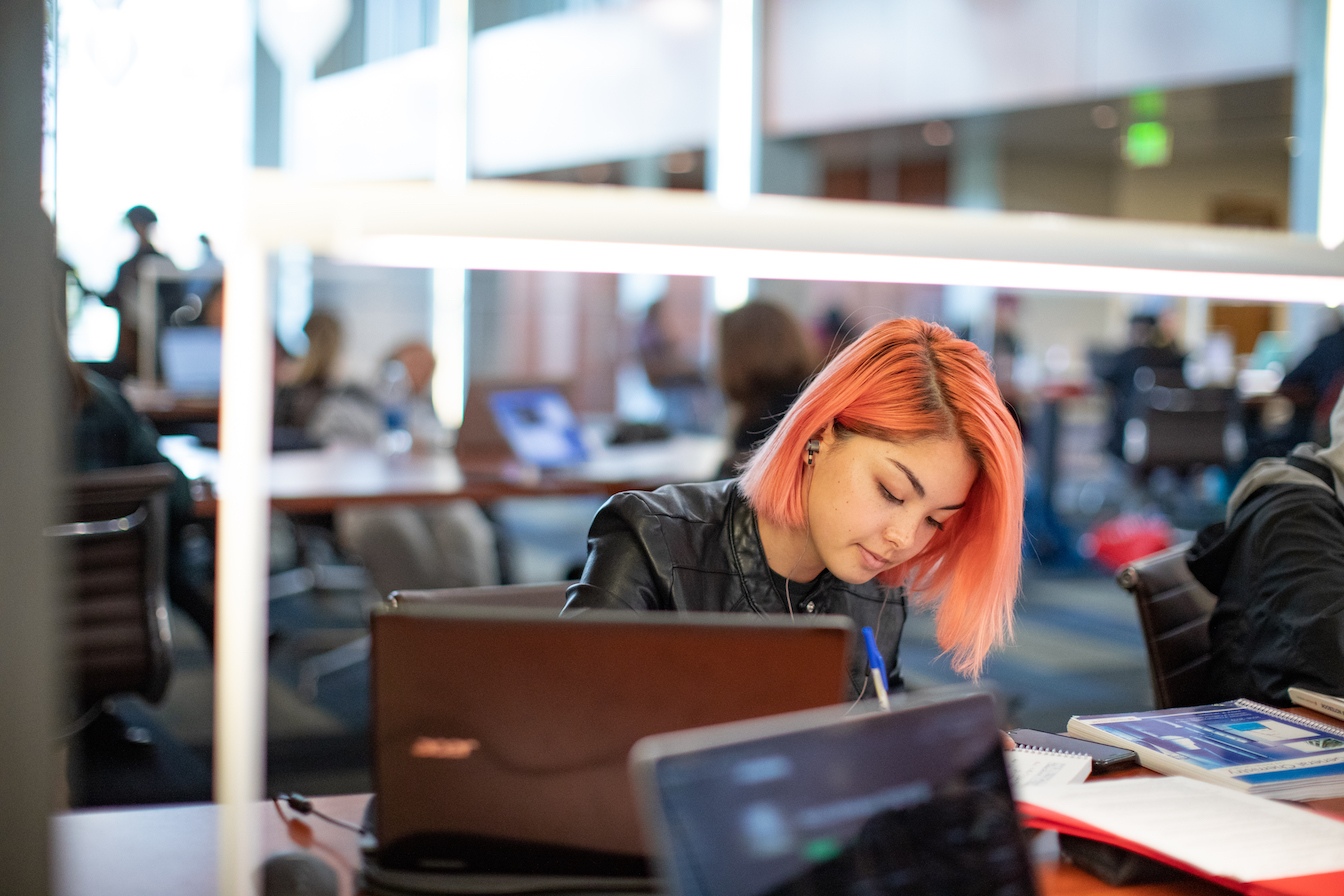 Building Your FSSP Schedule
All FSSP students participate in a two-unit common course, INT 95A: The Modern Research University. This course provides an introduction to internationally recognized research currently being conducted on campus, and connects you with faculty to learn about opportunities to become involved in undergraduate research during your time at UC Santa Barbara. In smaller discussion sections, graduate student mentors further introduce you to all the opportunities and resources available to you on campus.
Upon admission to the program, FSSP students are provided with a curated list of more than 70 lower-division courses, along with helpful information about degree requirements and academic advising resources. The Schedule of Classes supports you in choosing 7–12 units that align with your educational goals. The average FSSP student enrolls in 9–10 units.
Our dedicated advising team will provide you with explicit instructions on course enrollment when your FSSP application has been approved, but in the meantime you can explore special courses and seminars below.
Interdisciplinary (INT) 95 - The Modern Research University (2 units) / Dr. Ralph Gallucci, Classics and FSSP Director
Introduction to the creative processes behind research-based knowledge and to other academic and student services available on campus. As part of the course, students will meet faculty and learn about opportunities to become involved in undergraduate research at UCSB. All students participating in FSSP will enroll in this two unit course.
Special Courses & Seminars
These small group seminars, with a maximum of twenty students, will be taught by faculty who have volunteered their time and effort because they want to meet and teach students who are early in their UCSB careers. Facilitating student-faculty contact is one of the major goals of the First Year Exploration Seminar. Students have the opportunity to take up to three First Year Exploration Seminars during FSSP.
INT 94GZ. Mummies, Myths and Magic: Surviving Death in Ancient Egypt (1 unit) / Dr. Stuart Smith, Anthropology
The ancient Egyptians and Nubians spent a great deal of time and effort preparing for the Afterlife, making mummies and providing them with the equipment that would allow them to live forever. Mummies have been a source of fascination for centuries — witness most recently the success of Universal's remake of "The Mummy." So what makes a mummy? What was the most important funerary equipment for a successful afterlife? Just how much did immortality cost an average or above average ancient Egyptian? Referencing his own archeological work at Luxor's Theban Necropolis and in Sudanese Nubia, Professor Smith will explore some modern myths and the fascinating insights we can gain from mummies and their equipment.
INT 94IM. Research Methods and Opportunities in the Social Sciences (1 unit) / Dr. John Park, Asian American Studies
Leading professors in the social sciences are doing some exciting work at UCSB, and this course provides a glimpse into what they have been up to. Whether their research has been about banking policy, political behavior, mass communication and popular culture, or race, class, and gender inequality, their work has had a major impact on our understanding of complex social processes and problems. This course will focus on how your professors develop research projects, the methods they have used to gather new information, and then the brilliant theories they have proposed to explain their findings. Through this discussion, students will get a better sense of the multiple career opportunities available to students interested in the social sciences, including careers in law, business, public policy, and other related professions. We end with a discussion of the many opportunities available to undergraduates to engage in research, either on their own projects, or as a research assistant to a faculty member.
INT 94FC. Screen Classics: From The Gladiator to the Clash of the Titans (1 unit) / Dr. Dorota Dutsch, Classics
This class examines several Hollywood films dealing with classical subjects, both historical and mythological. We will view excerpts from the Gladiator (2000), Troy (2004), Alexander the Great (2004), the HBO series Rome (2005-2007), Lightening Thief (2010), and The Clash of the Titans (2010), and ask what social trends may be behind this renaissance of interest in classics; we will also attempt to find the generic patterns revealed by these films, whose target audiences range from children to adult audiences with taste for violent and explicitly sexual material. Our goal in noting tendencies and generic patterns will be to identify the role that the classical past has come to play in popular culture.
INT 94RG. Introduction to Engineering and its Applications (1 unit) / Dr. Hua Lee, Electrical and Computer Engineering
This seminar sequence provides an overview of electrical, me­chanical, and computer engineering in a concise and compre­hensive manner. The full-spectrum topics include communica­tions, signal processing, VLSI, control systems, robotics, and computer-aided design in hardware, software, system integration, as well as industrial applications. The seminars will also give you an excellent perspective of the curriculum, advancement in the industry, as well as research directions in graduate study. In addition to presentations by faculty, the course includes a tour of engineering research facilities.
Classics 99/H. Introduction to Undergraduate Research in the Humanities: The History of Democracy (1-3 units) / Dr. Ralph Gallucci, Classics and FSSP Director
We live in a democracy. Most of us likely believe that it is the best form of government, but what is its historical background? This class traces the origins of democratic government from ancient times up through the present. We begin in ancient Iraq, in a kingdom called Sumer, and read about a political system called "primitive democracy." We will also look at other examples of "primitive democracy" in evidence among ancient tribal societies and chiefdoms and in the modern anthropological record. We next examine the political systems of the Greeks and Romans, and how they have influenced our modern notions of democracy as well as socialism and communism since medieval times.
INT 35LT. Experiencing Shakespeare (8 units) / Dr. Irwin Appel, Theater & Dance, and Dr. James Kearney, English
This innovative course brings together faculty from the departments of English and Theater & Dance to offer students an immersive experience of Shakespeare that combines performance, literary study, and research. As part of the course, students will attend a live theatrical production of Romeo and Juliet, directed by Irwin Appel, one of the professors of the course. Students can expect Shakespeare to come to life on page and stage as they experience these multi-faceted works from a variety of perspectives.
INT 64. Major & Career Exploration (2 units / Career Services)
This course provides students with a foundation for academic, personal, and career success. Through personal assessment activities that examine interests, personality styles, values, skills, and strengths, this course assists students in their exploration of college majors and career options while further developing an understanding of themselves as beginning college students. The focus will be on researching academic departments, career paths, and labor market trends while providing students with tools and strategies for reflection, goal-setting, and success.
Students in the Honors Program can complete Honors Experiences this summer. Both Classics 99 (description above) and Classics 40H will count as honors experiences.
Please note that the Classics 40H discussion section must be taken in conjunction with Classics 40 (description below).
Greek Mythology - Classics 40 (4 units)/ Dr. Ralph Gallucci, Classics and FSSP Director/Satisfies Area G and the European Traditions requirements (open to all FSSP students).
Examination of the world of Greek mythology: the origin of the gods, the universe, and humans as well as the stories of the major Greek heroes, such as Cadmus, Perseus, Heracles, Theseus, Achilles, Odysseus, and Penelope. Readings include the near eastern Epic of Gilgamesh, Homer's Iliad and Odyssey, Hesiod's Theogony and Works and Days, and the Homeric Hymns. Special attention will be given to the religious, archaeological, social, historical, and cultural background of these works. Moreover, the class examines theories of myth interpretation and the influence of Greek myth in popular culture today.
Review our Summer 2022 course offerings available to first-year students in our FSSP Schedule of Classes below.