FSSP students make immediate progress toward their educational goals by registering for UC Santa Barbara courses and completing 7-12 units, all before the academic year officially begins! Many courses have smaller class sizes during the summer months, so students benefit from individualized attention from faculty members while acclimating to UC Santa Barbara's academic environment. FSSP students also gain access to unique opportunities, such as seminars designed specifically for first-year students, undergraduate research courses, honors sections, and enrichment classes.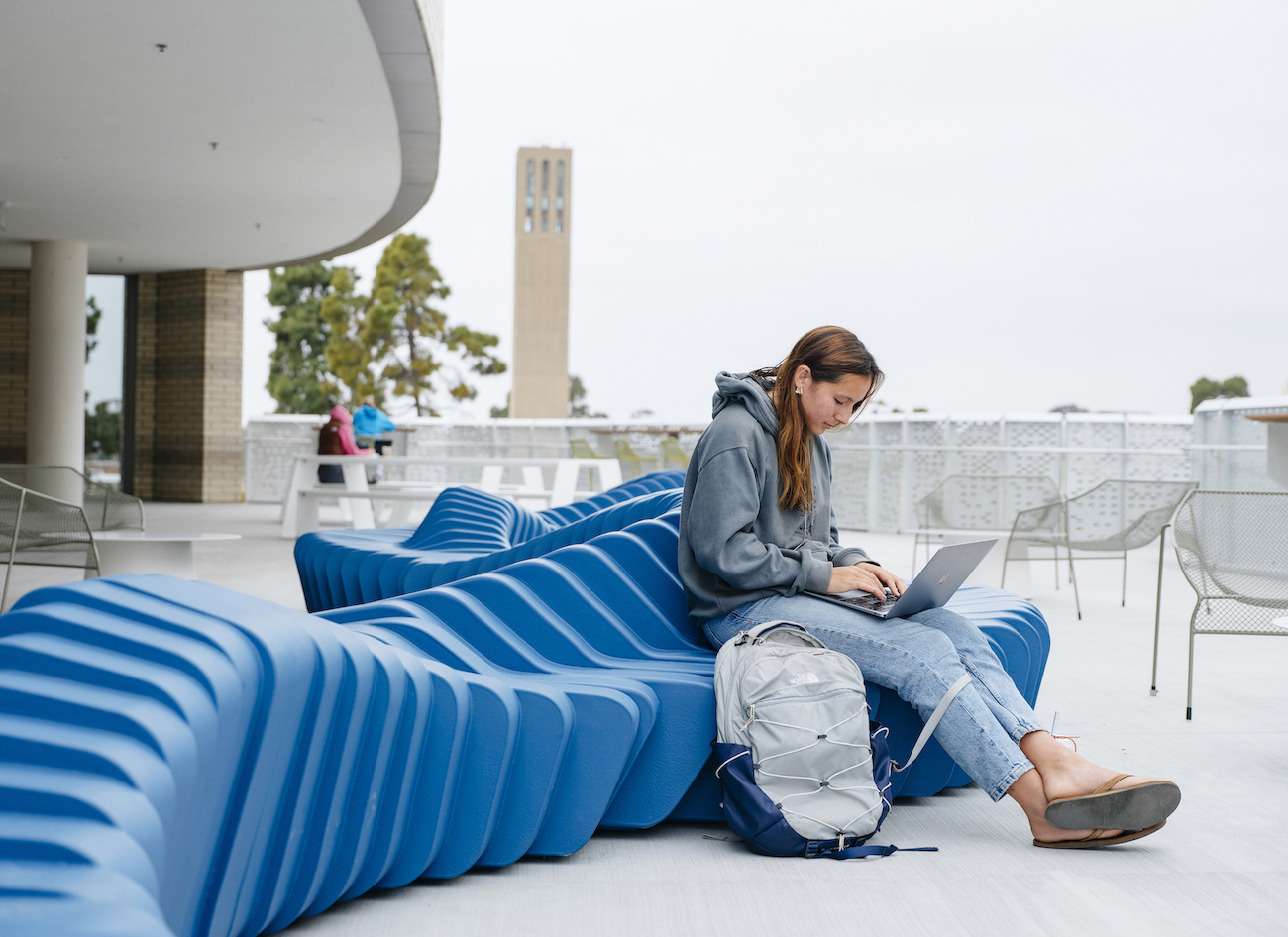 Building Your FSSP Schedule
All FSSP students participate in a two-unit common course, INT 95A: The Modern Research University. This course provides an introduction to internationally recognized research currently being conducted on campus, and connects you with faculty to learn about opportunities to become involved in undergraduate research during your time at UC Santa Barbara. In smaller discussion sections, graduate student mentors further introduce you to all the opportunities and resources available to you on campus.
Upon enrollment in the program, FSSP students are provided with a curated list of more than 70 lower-division courses, along with helpful information about degree requirements and academic advising resources. The Schedule of Classes supports you in choosing 7–12 units that align with your educational goals. The average FSSP student takes 9–10 units.
Our dedicated advising team will provide you with explicit instructions on course registration when your FSSP enrollment application has been approved, but in the meantime you can explore special courses and seminars below.
Interdisciplinary (INT) 95 - The Modern Research University (2 units) / Dr. Ralph Gallucci, Classics
Introduction to the creative processes behind research-based knowledge and to other academic and student services available on campus. As part of the course, students will meet faculty and learn about opportunities to become involved in undergraduate research at UC Santa Barbara. All FSSP students participate in this two unit course.
Special Courses & Seminars
These small group seminars, with a maximum of twenty students, will be taught by faculty who have volunteered their time and effort because they want to meet and teach students who are early in their UCSB careers. Facilitating student-faculty contact is one of the major goals of the First Year Discovery Seminars. Students have the opportunity to register in up to two First Year Discovery Seminars during FSSP, with each valued at one unit of credit.
INT 94OR – Global California: Past and Present
This course will provide students with a broad overview of the questions and methodological approaches that guide the interdisciplinary field of Global Studies. The course asks: what does it mean to study the historical and contemporary politics of California–specifically the Central Coast and Southern California–in global, transnational, and comparative context? We will explore topics such as migration, economic development, social movements, militarism, and cultural memory. Possible field trips include: community-based archives, museums of art and social history, guided walking tours, and guest lectures with grassroots activists and archivists.
INT 94QV – History of War
This seminar will explore the conceptualization of war in the western tradition from Antiquity to Modern Times.
INT 94SH – Health & Wellness: Walk UCSB
Looking to make the most of your time at UCSB, while sustaining healthy habits? This seminar will introduce students to aspects of health and wellness while exploring UCSB through a series of walking activities. At the conclusion, you will have learned practical and applicable strategies for health and wellbeing, and discovered resources on campus that advocate wellness. You'll also find new ways to explore health routines within the context of a busy personal, student and professional life.
INT 94SE – Approaches to Supporting Youth with Disabilities
Do you have an interest in the field of education? Have you ever wondered how educators and researchers work together to improve learning outcomes for their most vulnerable students? This seminar will take a look at some of the programs and projects at UCSB that focus on supporting youth with disabilities. Visit the Teacher Education Program and hear from faculty and students about their important work in our local schools, explore the Koegel Autism Center and learn about their groundbreaking research, and gain insights on how you can get involved in special education and disability as an undergraduate.
INT 94FV – Improving the Quality of Life of Older Adults with Dementia Using Virtual Reality
This Discovery Seminar will involve meeting in a group and discussing the behavioral research on older adults with dementia and how to communicate with them in ways that enhance their well-being and that of their caregivers. We are currently collecting data in almost all of the senior living communities in Santa Barbara (20 total in California and Boston), using virtual reality with older adults with dementia and their adult children who live at a distance. As a part of this seminar, you will learn how to use the virtual reality technology and how/why it can improve older adults' and their adult children's mental health and help them maintain their relationship. We will then take field trips into some of the local senior living communities where you can see the technology being used with older adults and their family members.
INT 94GO – Crafting for Public Engagement
How did a quilt larger than a football field help the US public understand the AIDS epidemic differently in the 1990s? This seminar explores craft projects that individuals and groups create to raise awareness, foster connections, and challenge perspectives. We'll view examples of these projects through online image databases, crafted items, and short readings to consider their impact on publics and spaces. For our lab component, you'll learn basic sewing, embroidery, and knitting stitches to make at least one "civic" crafted item.
INT 94WH – Language Learning & Teaching
What makes an effective language learner or language teacher? This course brings together current research in Education, Linguistics, and Language Departments to answer these questions. We will discuss theories of Second Language Acquisition and practices to build intercultural competence. If you are interested in language study, teaching, or international perspectives, and meeting others who share those interests, then this is the course for you!
INT 94MW – The Case Against Science
A Gallup Poll shows that 44% of Americans think the theory of evolution is false. Should there be stickers on biology books, warning that evolution is only a theory? Is climate change a hoax? Are dangers of vaccination suppressed by the mainstream medical establishment? Is intelligent design covered up by biologists? Science appears to be doubted and beleaguered from many sides. What do the courts have to say? Explore the history and philosophy of science. Be skeptical and decide whether science can be trusted.
INT 94CC – Constructive Conflict
From arguments with your roommate to distributing the workload on a group project to negotiating pay for a new job, conflict is a part of our everyday lives. In this seminar we'll learn some techniques used by conflict resolution experts to address conflicts positively and productively. We'll also hear from campus offices that deal with conflict, and learn about the resources available to help students when an issue arises.
INT 35LT. Experiencing Shakespeare (8 units) / Dr. Irwin Appel, Theater & Dance, and Dr. James Kearney, English
This innovative course brings together faculty from the departments of English and Theater & Dance to offer students an immersive experience of Shakespeare that combines performance, literary study, and research. As part of the course, students will attend a live theatrical production of Romeo and Juliet, directed by Irwin Appel, one of the professors of the course. Students can expect Shakespeare to come to life on page and stage as they experience these multi-faceted works from a variety of perspectives.
INT 64. Kickstart Your Major & Career Path (2 units / Career Services)
This course is designed to be your first step to explore and connect to your future career goals. Through personal assessments and engaging career activities, you will discover how your interests, skills, and personality relate to UCSB majors and potential careers. In addition, you will learn about the various experiences available at UCSB and create a personalized plan to make the most out of the university experience and continue your career exploration journey beyond the classroom throughout your first year.
Students in the Honors Program can complete an Honors Experience this summer. First Year Discovery Seminars and Classics 40H can count as honors experiences.
Please note that the Classics 40H discussion section must be taken in conjunction with Classics 40 (description below).
Greek Mythology - Classics 40 (4 units)/ Dr. Ralph Gallucci, Classics and FSSP Director/Satisfies Area G and the European Traditions requirements (open to all FSSP students).
Examination of the world of Greek mythology: the origin of the gods, the universe, and humans as well as the stories of the major Greek heroes, such as Cadmus, Perseus, Heracles, Theseus, Achilles, Odysseus, and Penelope. Readings include the near eastern Epic of Gilgamesh, Homer's Iliad and Odyssey, Hesiod's Theogony and Works and Days, and the Homeric Hymns. Special attention will be given to the religious, archaeological, social, historical, and cultural background of these works. Moreover, the class examines theories of myth interpretation and the influence of Greek myth in popular culture today.
Review our course offerings available to first-year students in our FSSP Schedule of Classes below.
FSSP Course Registration Resources